ONGOING & UPCOMING
FEAR OF MUSIC, TRUST IN TWELVE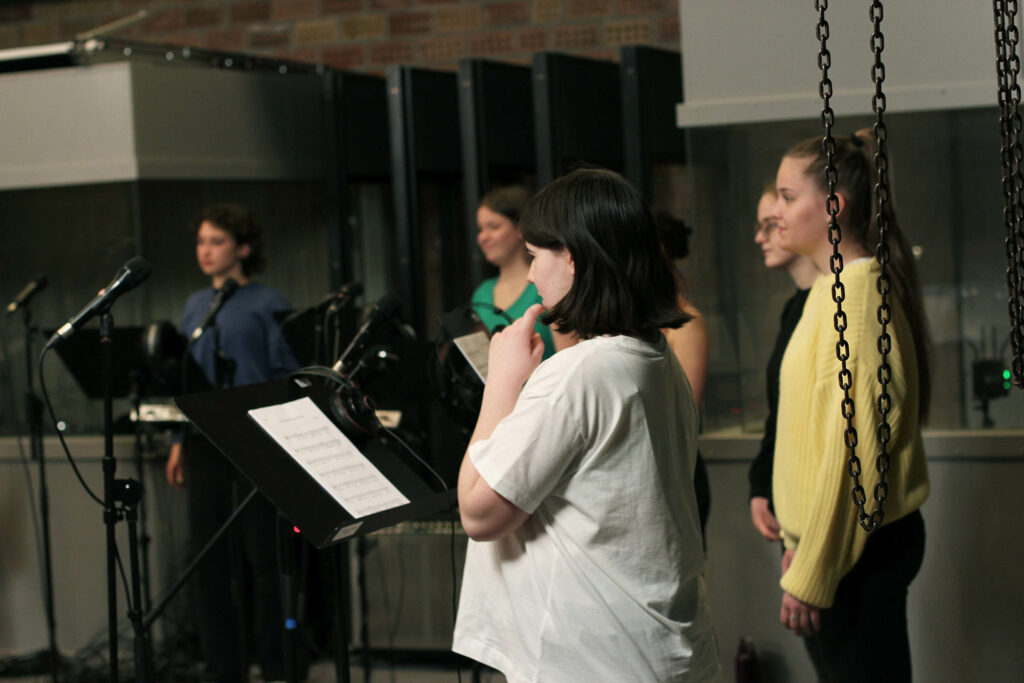 Solo exhibition at EBENSPERGER Berlin
November 13 – December 18, 2022
Opening: November 13, Sunday, 5 pm – 8 pm
Performance at the opening from 6 pm and 7 pm:
"Fear of Music, Trust in Twelve – Asynchronous Version" 2022
Concept and lyrics by Hajnal Németh
An improvisation based on the vocal melody of the composition by Paul Brody, performed by Toni Schmidt with members of the Klang Vokal Jugendchor and friends.
The central work of the exhibition is the video installation "Dream Exchanges – Fear of Music, Trust in Twelve" (2022), which shows footage of a piece co-written and performed by a twelve-member youth chamber choir.
In the prose parts, the choir members perform each other's dreams as a result of the random redistribution of their dream notes. For the musical parts, the variable lyrics of the piece are constructed from a mathematical combination of twice twelve pairable linguistic elements.
A live version of the piece will be performed at the opening of the exhibition. The openness of the structure allows each performer to convey a rearranged, new textual content. The dedicated lyrics rearranger is available online to anyone, and each version can be downloaded individually.
FEAR OF MUSIC, TRUST IN TWELVE – random lyrics
more information about the work
The opening is accompanied by the launch of a new publication designed by Anna Mándoki: "Hajnal Németh, Work Song – Among Others" (textbooks and scenarios of performances 2011-2021).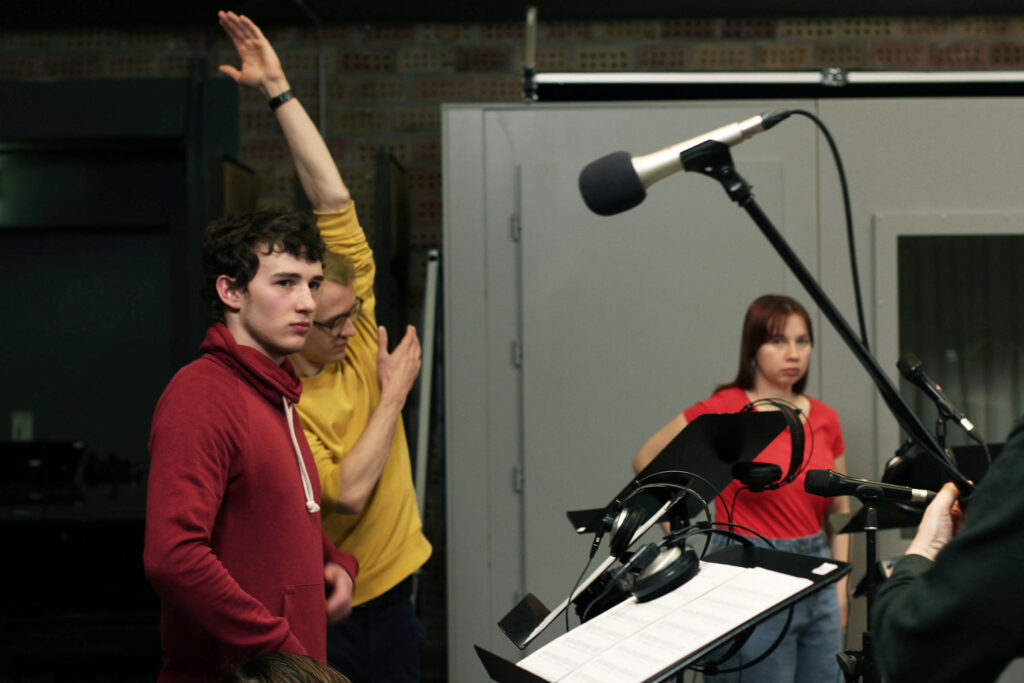 "Dream Exchanges – Fear of Music, Trust in Twelve", 2022
Two-channel video installation with quadraphonic sound, 4k
Written and directed by Hajnal Németh
Co-written and performed by the Jugendchor Canzonetta
Conducted by Toni Schmidt
Music composed by Paul Brody
Realized with the support of:
BBK-Bundesverband
Projektbüro NEUSTART für Bildende Künstlerinnen und Künstler
BKM – Die Beauftragte der Bundesregierung für Kultur und Medien

* * *
FREEDOM TRAP
Twelve days of constantly changing, live exhibition: two simultaneous and segmented contra-concerts in a two-site performative installation.
19 September – 30 September 2023
Location 1: Blue Chapel, Balatonboglár (H)
Location 2: Babel Camp, rehearsal room, Balatonboglár (H)
Curated by Gabriella Schuller and László Százados.
As part of the exhibition and programme series "Performative Archive: Balatonboglár 1970-73", accompanying the "Boglár'50" exhibition curated by József Mélyi in Vaszary Villa in Balatonfüred.
The project is themed around the Chapel Studio of Hungarian neo-avant-garde and fluxus artist György Galántai in Balatonboglár. The exhibition space, which operated in the early 1970s, was a forum for progressive artistic initiatives independent of cultural politics, a venue featuring the best of Hungary's (and then considered politically undesirable) avant-garde artists, and guest artists from abroad. After four years of activity, including 35 exhibitions, concerts, poetry recitals, theatrical performances, and film shcreenings, under constant surveillance by secret agents and harassment by the authorities, the place was finally closed down (walled up) by the regime.
* * *