ONGOING & UPCOMING
FIVE SONGS, ONE END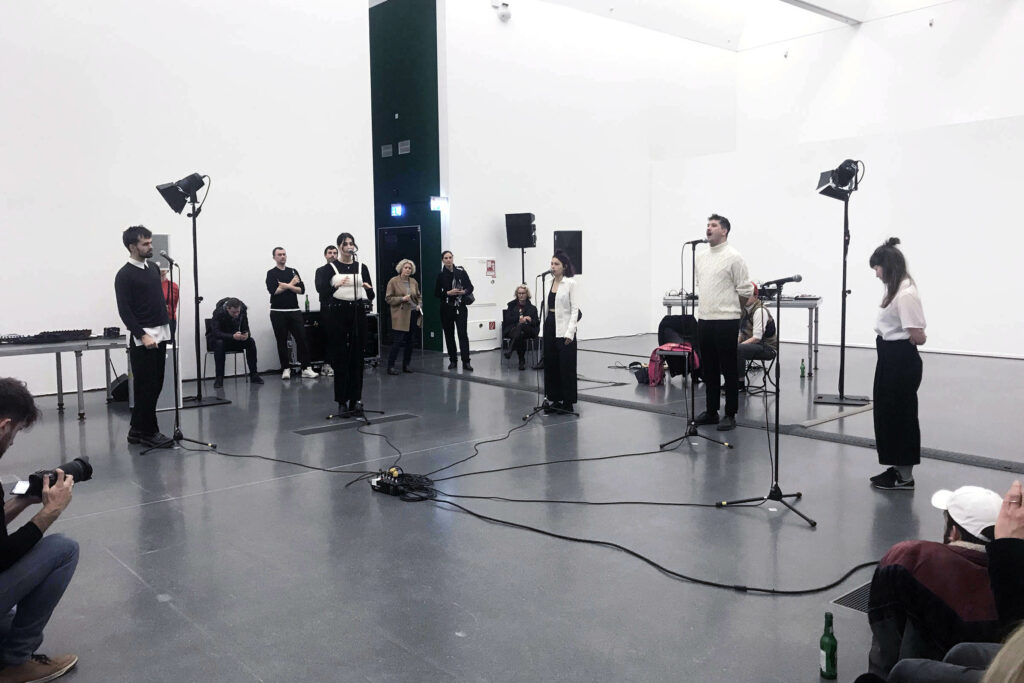 Hajnal Németh, "Five Songs, One End", 2021, performance for five singers, in the frame of "Jour de Ruhr x dispari", Dortmunder U – Museum Ostwall, Dortmund, 2023
Performed by: Jem Bosatta, Júlia Koffler, Donya Solaimani, Eva Swiderski and Joshua Tjong-Ayong
Photo by Willi Bauerfeld
Performance, participation in "Jour de Ruhr x dispari"
DORTMUNDER U – Museum Ostwall
18 February, 6 pm – 19 February, 2 am, 2023
The Dortmunder U invites the event format "Jour de Ruhr" – which in turn invites the Hamburg label "dispari". The result is an evening with performances, concerts, DJ sets and a bar between musical rehearsal and artistic process.
Initiated and run by Nguyen Phuong-Dan, "dispari" is a label and platform for all kinds of auditory publications and performances at various places.
Hajnal Németh, "Five Songs, One End" ( 2021 – )
18 February, 9 pm
Performance for five singers, approx. 25 min
Performed by: Jem Bosatta, Júlia Koffler, Donya Solaimani, Eva Swiderski and Joshua Tjong-Ayong
The piece was originally commissioned by Neuer Berliner Kunstverein (n.b.k) in 2021.
The idea of "Five Songs, One End" (2021) by Hajnal Németh is based on a brief instruction forming the score of Tomas Schmit's piece "Two Compositions to Justify a Performance" (1964). The adaptation, however, departs significantly from the original concept.
The original instruction reads as follows: At the beginning of a performance announce: "END!", and at the end: "NOW IT STARTS AGAIN!" In Németh's interpretation, the ending is an improvisatory process filling the duration of the performance, in which five singers repeat the last line of five songs continuously and in different variations.
The score of the piece is as follows: five singers perform the last lines of five well-known songs several times in sequence, with pauses of different lengths, in any order or variation. The singers may build up their repertoire independently, including the endings of all five songs, or they may repeat the endings of a single song. Sometimes they have to take a break between singing, which can be from 2 to 20 seconds. The total length of the piece should be between 15 and 20 minutes. The rhythm of the singing of the song ends can be developed together or separately, and the structure of the piece can be structured following a system or as an improvisation. For joint improvisations, mutual attention and a kind of action-reaction dynamic are required. The key is the play of variations, coincidences, singing in synchrony or asynchrony and silences. process filling the duration of the performance, in which five singers repeat the last line of five songs continuously and in different variations.
* * *
FREEDOM TRAP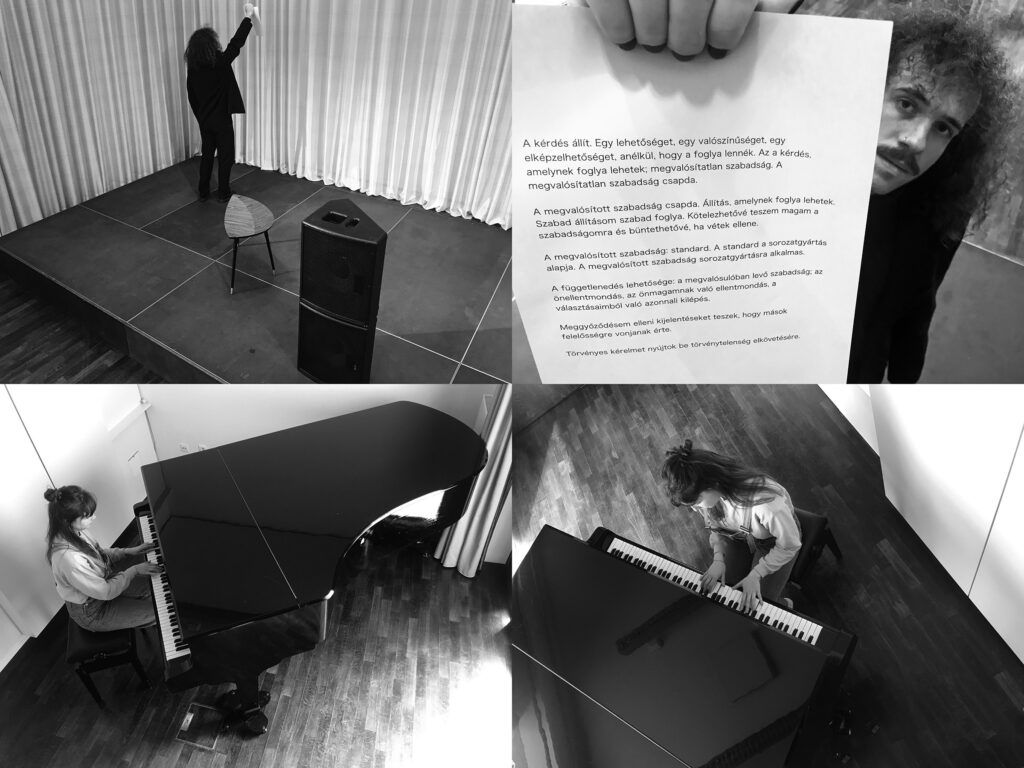 Hajnal Németh, "Freedom Trap", 2023, two-site simultaneous contra-concert, screen for a surveillance camera system, preparatory photo
On the picture: Bence Kovács and Júlia Koffler
The text on the picture is a quotation from Tibor Hajas' work "Freedom Industry Broadcast, Channel IV" (1973).
Twelve simultaneous contra-concerts in a two-site performative installation
19 September – 30 September 2023
Every day 6 pm – 8 pm
Location 1: Blue Chapel, Balatonboglár (H)
Location 2: Babel Camp, rehearsal room, Balatonboglár (H)
Curated by Gabriella Schuller and László Százados.
As part of the exhibition and programme series "Performative Archive: Balatonboglár 1970-73", accompanying the "Boglár'50" exhibition curated by József Mélyi in Vaszary Villa in Balatonfüred.
The project is themed around the Chapel Studio of Hungarian neo-avant-garde and fluxus artist György Galántai in Balatonboglár. The exhibition space, which operated in the early 1970s, was a forum for progressive artistic initiatives independent of cultural politics, a venue featuring the best of Hungary's (and then considered politically undesirable) avant-garde artists, and guest artists from abroad. After four years of activity, including 35 exhibitions, concerts, poetry recitals, theatrical performances, and film screenings, under constant surveillance by secret agents and harassment by the authorities, the place was finally closed down (walled up) by the regime.
"Freedom Trap" by Hajnal Nemeth is a process-based work. The twelve-day process will consist of two series of simultaneous events, including twelve simultaneous contra-concerts, in a performative installation across two venues. The participatory series of events can be visited, experienced and shaped, but can also be followed by anyone online via a surveillance camera system, in real-time, in four channel broadcast.
* * *