ONGOING & UPCOMING
FREEDOM TRAP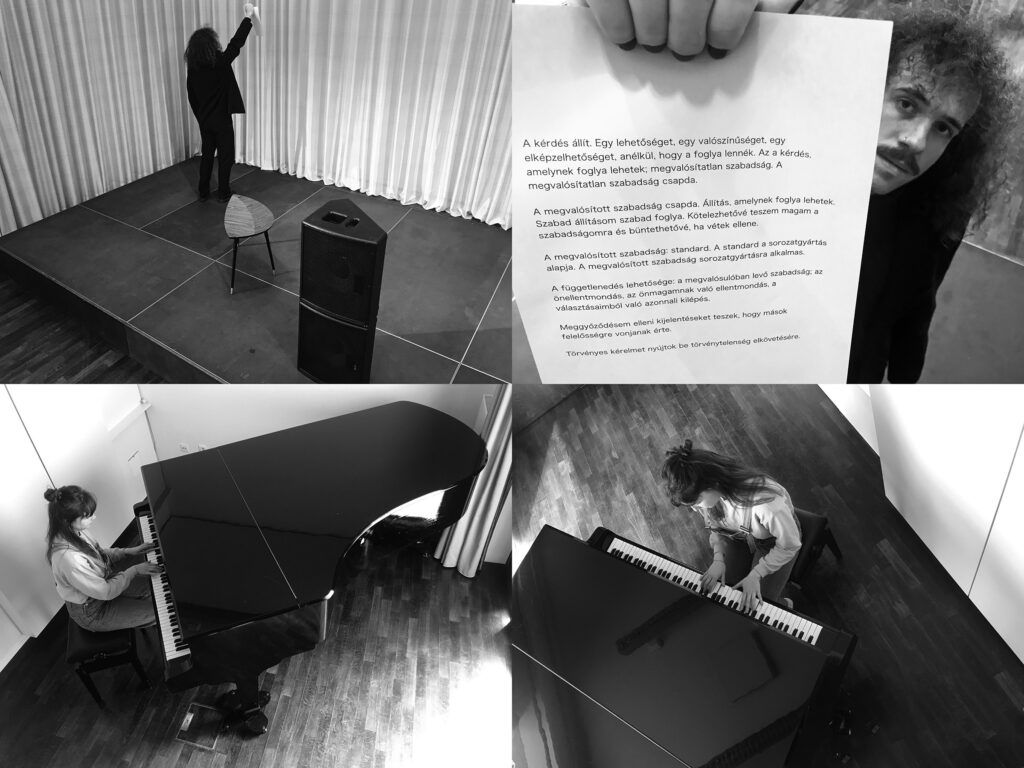 Hajnal Németh, "Freedom Trap", 2023, performance, simultaneous concert, screen for a surveillance camera system, preparatory photo
On the picture: Bence Kovács and Júlia Koffler
The text on the picture is a quotation from Tibor Hajas' work "Freedom Industry Broadcast, Channel IV" (1973).
FREEDOM TRAP
Performative Installation
September 23 – September 30, 2023
Blue Chapel, Balatonboglár (H)
Open daily: 12:00 – 18:00
Simultaneous concert daily from 18:00
Invited contributing artists: Arnold Dreyblatt, György Galántai, Zsolt Sőrés, Jeremy Woodruff
Further contributors to the simultaneous concerts: Péter Barta, Lora Lorina Bóna, Dóra Csernátony, Sophie Horvath, Ágoston Janesch, Péter Janesch, Júlia Koffler, Bence Kovács, Goran Milosevic, Katica Nagy, Kálmán Oláh, Albert Orgon, Rebeka Zsuzsanna Pál, Zofia Polak, Róza Politzer, Károly Puka, Gyula L. Szabó, Pál Placid Szabó, Attila Till, Dimitrij Vincze
Assistants involved in the realisation of the project: Rania Ruzsa, Jenő Schrauff
The eight-day performative installation "Freedom Trap" is a process-based work, with a performative action, a simultaneous concert at the end of each day. The work can be visited, experienced and occasionally shaped. The CCTV recordings of the simultaneous concerts can always be viewed online on this website, from 3 pm the following day onwards. The videos will be available until the end of the year.
Watch the recordings of the simultaneous concert:
Saturday (23.09.2023 – available from 24.09.2023, 3 pm)
Sunday (24.09.2023 – available from 25.09.2023, 3 pm)
Monday (25.09.2023 – available from 26.09.2023, 3 pm)
Tuesday (26.09.2023 – available from 27.09.2023, 3 pm)
Wednesday (27.09.2023 – available from 28.09.2023, 3 pm)
Thursday (28.09.2023 – available from 29.09.2023, 3 pm)
Friday (29.09.2023 – available from 30.09.2023, 3 pm)
Saturday (30.09.2023 – available from 01.10.2023, 3 pm)
The simultaneous concerts are based on texts of archival documents (press releases, agent reports, court documents, penalties, correspondences, etc.) from and related to the period of the Balatonboglár Chapel Studio (1970-1973), radically altered, fragmented and rearranged, rhythmically and musically interpreted. In addition, original authorial texts from the period will also be performed: the latter intact, on the assumption that the passage of time and the present itself provide them with a context. The flash-like quotations are based on an extensive selection of works by the artists of the chapel exhibitions, while the more voluminous, full-length authorial texts are by Tibor Hajas.
The title of the project refers to the text of Tibor Hajas' "Freedom Industry Broadcast, Channel IV", which the author performed on 21 July 1973 in the Balatonboglár Chapel Studio.
The project is part of the programme Performative Archive: Balatonboglár 1970-73, curated by Gabriella Schuller and László Százados. The series evokes and thematizes the neo-avant-garde and fluxus artist György Galántai's Chapel Studio in Balatonboglár from 50 years ago. The exhibition space, which operated in the early 1970s, was a forum for exemplary self-organising, progressive artistic initiative, independent of official cultural policy, a venue mainly featuring Hungarian avant-garde artists considered politically undesirable, as well as foreign guest artists. After four years of activity, including 35 exhibitions, concerts, poetry recitals, theatrical performances, and film screenings, under constant surveillance by secret agents and harassment by the authorities, the place was finally walled up by the regime.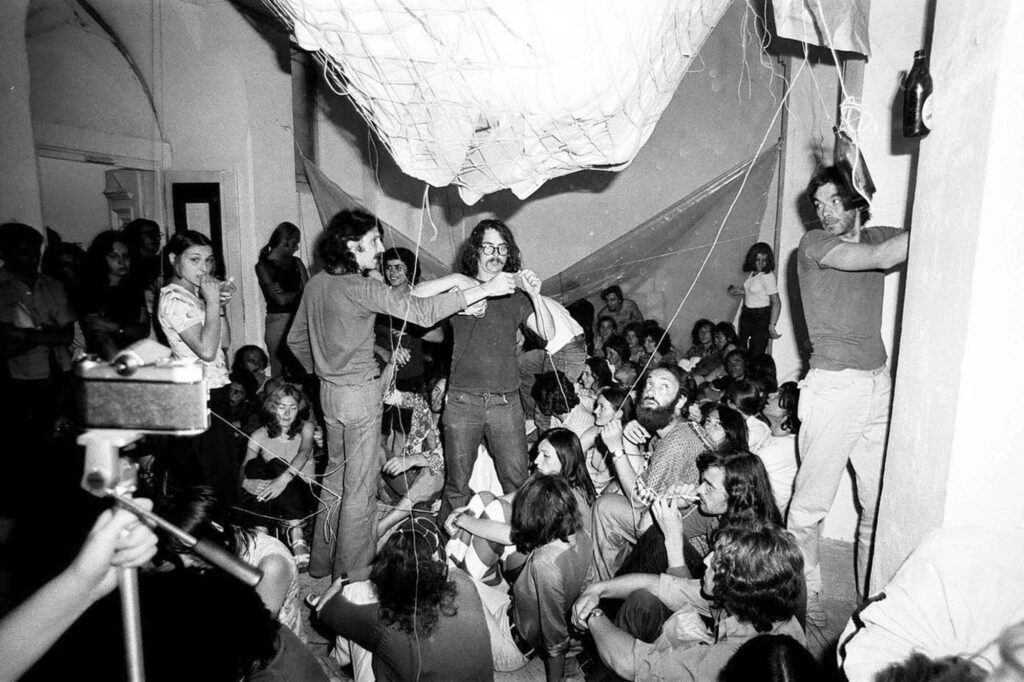 Tibor Hajas, "Freedom Industry Broadcast, Channel IV", performance, Balatonboglár Chapel Studio, 21 July 1973, photo by András Tóth
Trailer of the project "Freedom Trap" by Hajnal Németh, 2023
View the book "Illegal Avantgarde"
Address of the venue: Blue Chapel, Kápolna u. 8, 8630 Balatonboglár, Hungary
Special thanks to Artpool Art Research Center
Commissioned by Veszprém-Balaton 2023 – European Capital of Culture and Babel Camp